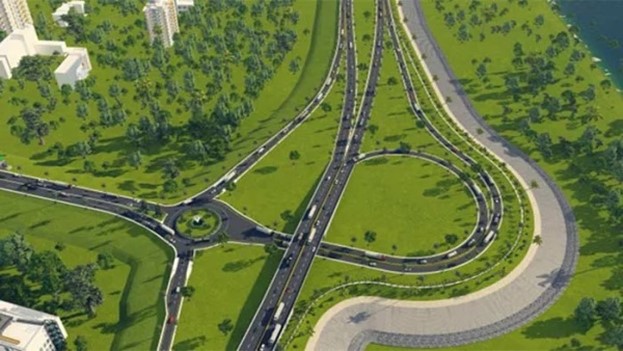 Project Overview
Chittagong is the second-largest city in Bangladesh and is the country's major port terminal located on the Karnaphuli River. It is one of the ten fastest-growing cities in the world and is suffering from traffic congestion. The outer ring road is being developed to help overcome this problem. However, this project represents only a small part of the overall planned outer ring road.
The project is for the construction of a four-lane coastal road on a raised embankment parallel to and close to the coast. The 10 m high embankment is designed to protect the port zone of the city from the effects of cyclone-induced storm surges – the most recent of which in 1991 killed 130,000 people. There are three feeder roads emanating from the port zone connected to the coastal road. Consideration has had to be given to the resettlement of approximately 4,000 people to make way for the road system.
The Project Road consists of the main road and three feeder roads with a total length of 15230 meters. The type of pavement is Flexible Pavement. The major components of these roads are:
      – Bridge Length: 38.50 meters (Each)
      – Types of Bridge: PC Girder
      – No. of PC Girder: 18 Nos. (in Each bridge)
11 Nos. of Sluice Gate Structure
5600 meters Wave deflection Wall
346 meters length RCC Drain under two bridges
Our Role
Design Phase, including topographical survey and geotechnical investigation, review of existing hydrology, traffic study, coastal engineering study as lead for the design of embankment protection, design of 10 m high embankment on soft ground, three interchange bridges and one road over rail bridge, drainage outlets through the embankment fitted with flap gates to prevent the entry of seawater, design of approximately 15 km of four-lane coastal road and three km of feeder roads, engineer's estimate and preparation of bid documentation.
Procurement phase, preparation of prequalification documents, review of applications for prequalification, and finally tender review.
The construction phase involves the supervision of construction and contract administration.
Resettlement assistance involves preparation of the land acquisition plan, review and monitoring of separately appointed resettlement NGO, and undertaking studies of gender, cultural, and heritage aspects.
Maintenance involves training of client personnel in maintenance requirements.
Location:

Chittagong

Technical Area:

Roads, Transport

Client:

Chittagong Development Authority

Project Start:

JULY 2011

Project Completed:

On Going