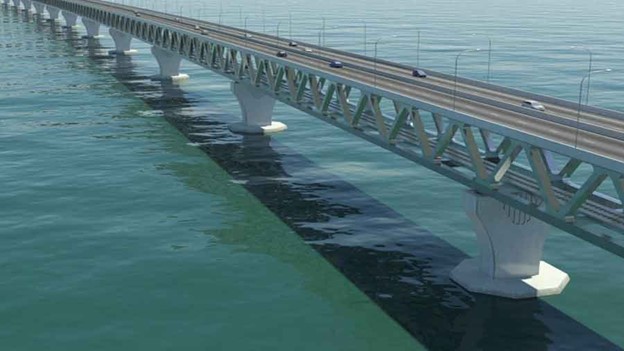 Project Overview
The Government of Bangladesh has taken a Project to construct a Multipurpose Bridge over the river Padma. Construction work on Padma Bridge has already started and will be completed by the year 2018. The objective for constructing the said multipurpose bridge over river Padma is to connect Dhaka with the South-West part of the country. The Padma Multipurpose Bridge provides four lanes for road traffic on the top deck and on the bottom deck a Broad Gauge Single Railway Track for providing a direct rail route from Dhaka to Jessore, Khulna, Benapole, and Mongla. With the view to connect Dhaka with the South-west part of the country within the shortest possible period, the construction of a rail link between Dhaka and Jessore earned prime importance. The new railway route will provide a substantially shorter route by shortening the travel distance between Dhaka-Jessore, Dhaka-Khulna, and Dhaka-Darsana by 184.72km, 212.05 km, and 44.24 km respectively. This rail link will become a vital railway corridor in terms of national as well as regional railway traffic demand. It is also proposed to be included in the Trans-Asian Railway network which is now actively under consideration by ESCAP. In brief, the project includes the following works:
Acquisition of approx. 1700 Acres of Private land and implement a Resettlement Plan.
Requisition of approx. 200.48 Acres of land of Roads and Highways (RHD) and approx. 68.08 Acres of land of Bangladesh Bridge Authority (BBA).
Construction of new Broad Gauge 172 km mainline and 43.02 km loop & siding line. The total track is 215.02 km including loops & sidings.
Construction of 21.86 km viaducts, 1.98km ramps, 66 major bridges, 244 minor bridges/culverts/underpasses, 1 Pedestrian underpass, 1 Road Bridge at Maowa approach, 30 Level Crossing Gates (Special: 13 no's; Class 'A': 1 no; Class 'B': 8 no's and Class 'B': 8)
Construction of 14 new Station Buildings and re-modeling of 6 existing station buildings along with Platforms, Platforms Shed, approach roads, functional and residential buildings for O&M personnel, and other allied works.
Installation of Computer-Based Relay Interlocked Signalling System along with Telecommunication System of 20(twenty) stations.
Supply of 100 BG Passenger Coaches.
Implementation of Environment Management Plan (EMP).
Our Role
Description of actual services provided by the staff of this firm through the following works:
Assist the Project Director with the expeditious acquisition of land required for the project;
Assist in the implementation of the resettlement plan.
Assist in the clearance of Construction Right of Way (CRoW) so that site can be handed over timely to the Contractor as per the site access plan;
Assist in the relocation of various utilities and keep liaison with utility service providing agencies;
Assist in the review of Investigation, Survey, Detailed Working Design, drawings, and design calculations for construction works submitted by the Contractor and recommend and ultimately submit to the Employer's Representative for approval;
Provide technical support associated with approval of contractor submissions, proposals for design modifications as well as for overall testing and inspection of the Works;
Assist in the review of detailed methodology, quality assurance plan, detailed work schedule, environmental management plan, safety assurance plan, etc. submitted by the Contractor and recommend and ultimately submit to Employer's Representative for approval;
Assist in Supervision of Construction Works following the conditions of the EPC contract;
Assist the Consultant to monitor, inspect construction works and ensure proper implementation of Construction Works following the working design, methodology, and quality assurance plan approved by the Employer's Representative;
Assist in the supervision of construction works ensuring the safety of train operation following the Codes, Rules, Regulations, and manuals of BR, especially in existing railway lines;
Assist in the review of IPC submitted by the Contractor and recommend and ultimately submit to Employer's Representative for approval and further necessary actions;
Assist the Consultant to monitor and ensure proper implementation of the safety assurance plan;
Assist the Consultant to monitor and ensure construction works are done following the detailed work schedule and if needed take necessary action to revise the detailed work schedule;
Assist in preparation of Progress Report(s);
Assist the Consultant to monitor and ensure proper implementation of the Environment Management Plan including personal safety and HIV/AIDs Prevention program;
Location:

Dhaka, Jessore, Khulna

Technical Area:

Bridge, Transport

Client:

Corps of Engineers BGD Army, Construction Supervision Consultant Cell, Corps of Engineers of Bangladesh Army

Project Start:

DECEMBER 2020

Project Completed:

On Going