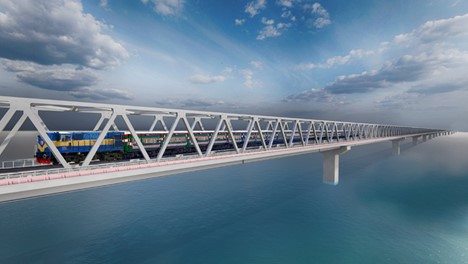 Project Overview
The existing Jamuna Multipurpose Bridge (Bangabandhu Bridge) co-financed by Asian Development Bank (ADB), World Bank (WB) and JICA is a historical landmark as well as a vital link that connects western and eastern parts of country. The Bangabandhu Bridge is also considered as an important part of the international and regional transport networks: the Trans-Asian Railway, South Asia Association for Regional Cooperation (SAARC) Transport Corridor 4 and Bay of Bengal Initiative for Multi-Sectoral Technical and Economic Cooperation (BIMSTEC) Railway Network. In this connection, Bangladesh has the potential to become a transport and transshipment center for the sub-region connecting India, Myanmar and the landlocked countries Bhutan and Nepal. The existing Bangabandhu Bridge over the River Jamuna, however, is a single-track dual gauge bridge. It was originally designed for 4-lane highway traffic with meter gauge (MG) single track and subsequently modified to carry dual gauge trains with restricted load and speed. Although this railway line has a great potential for heavy traffic especially freight transport with neighboring countries, it has been limited due to bottleneck caused by such restrictions. Therefore, to meet increasing national and sub-regional traffic demand, GOB recognizes the urgent need to construct a dedicated railway bridge parallel to existing Bangabandhu Bridge with the provision of dual gauge double track.
Our Role
SMEC, with our local subsidiary ACE Consultants is providing consultancy services for Design, Construction Supervision of Bangabandhu Sheikh Mujib Railway Bridge Construction Project. Responsibilities include:
Detailed Design
Review of F/S and supplementary survey and relevant existing reports.

Investigation and Survey for topography, geology, hydrology, morphology etc.

Preparation of the detailed design (including drawings).
Bid Assistance
Preparation of the bidding documents.

Bid assistance for BR to select Contractor: bid evaluation; award of the contract; contract negotiation; and finalizing the contract documents.
Construction Supervision
Supervision of works

Completion and Taking Over

Defect Liability Period
Safeguards Assistance (Environmental Considerations)
Reviewing the Environmental Impact Assessment (EIA) Reports of F/S report and finalizing the EIA Report

Updating and implementation the EIA Report, the Environmental Management Plan (EMP), the Environmental Monitoring measures and other relevant Considerations)
Others
Safety Considerations (Complying with safety Policy based on JICA Policy)

HIV/AIDS Prevention

Dispute Bord (DB) assistance

Transfer of technology

Organize overseas training/ study tour
Location:

Sirajganj and Tangail

Technical Area:

Railway, Transport

Client:

Bangladesh Railway

Project Start:

March, 2017

Project Completed:

On Going