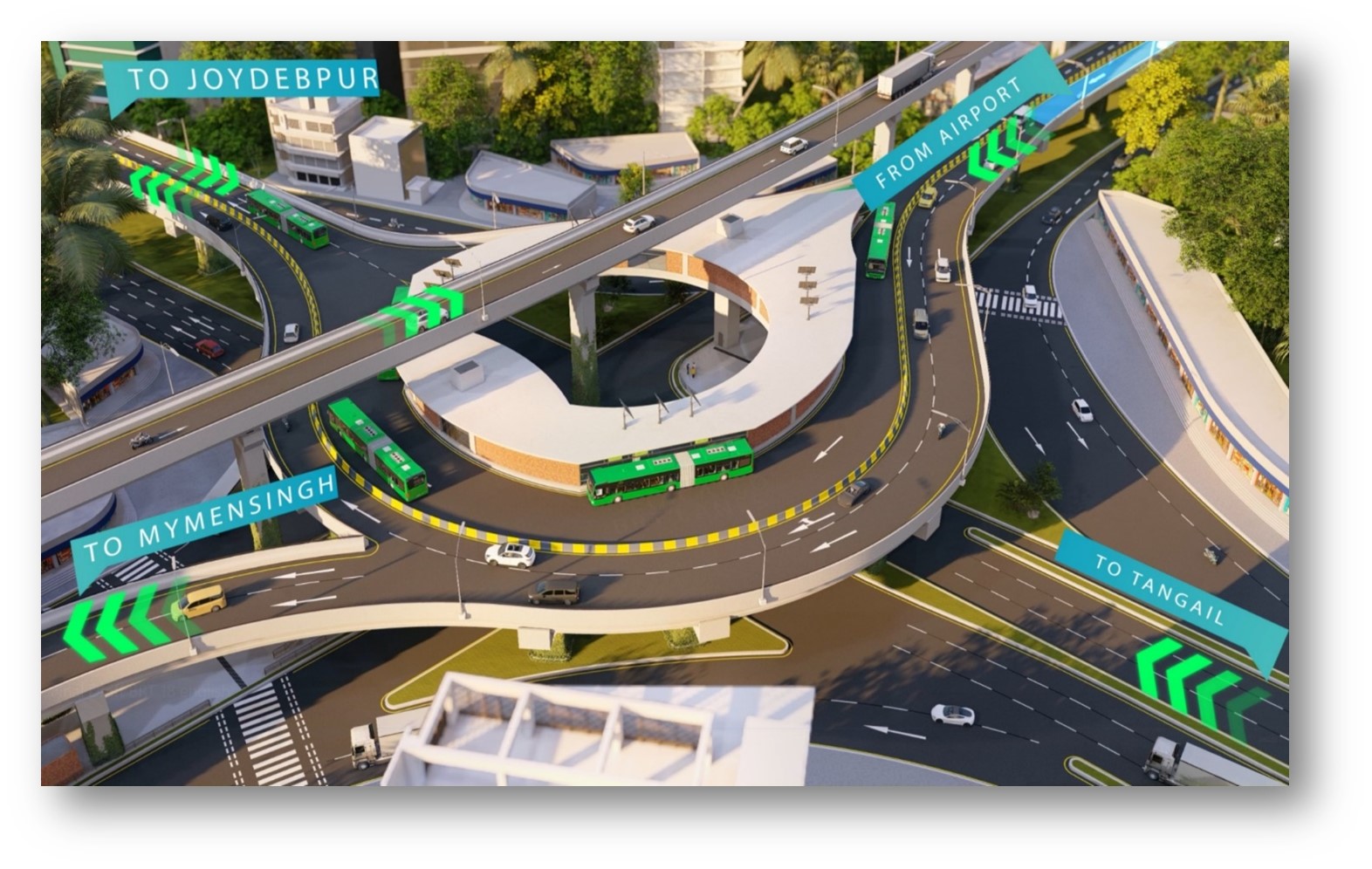 Project Overview
SMEC International Pty Ltd. and its associates were engaged by the Ministry of Road Transport and Bridges in May 2013 for Package II, the EPCM Component of the Project to undertake the design, provide assistance with procurement and supervise construction works for the 20.5 km BRT from the Shah Jalal International Airport to Gazipur. Also included in this component of the Project is the upgrading of approximately 57 km of LGED roads connecting with the main corridor, the development of market areas to cater for displaced traders, a bus depot at Gazipur and the installation of energy efficient highway lighting. The 20.5 km BRT route is shown in below in Figure.
Our Role
SMEC, with our local subsidiary ACE Consultants is providing consultancy services for Construction Supervision, Quality Control, Social and Environmental Safeguard etc. of the Greater Dhaka Sustainable Urban Transport Project.
Responsibilities include:
Strict supervision of the Contractor's activities to ensure that all work is carried out in full compliance with the engineering designs, technical specifications and other contract documents, as well as to effectively assist the Government to carry out its supervision responsibilities.

Ensure that the Works are carried out in accordance with the Contract & that the highest possible construction quality is achieved within the budget allocated.

Assist Project Management Unit (PMU) in all activities required of the Engineer and Engineer's Representative to the Contract and assist the Engineer to administer the execution of the Construction Contract in accordance with Condition of Contract.

Review and approve the Contractor's work proposals, working drawings etc. to the extent required by the Contract, advice modifications where necessary and approve these proposals.

Monitor compliance of Environmental Management Plan as well as any other environmental issues in co-ordination with stakeholders.

Monitor compliance of Resettlement Plan or any other social development issue identified during feasibility study/detailed design phase in co-ordination with stakeholders.

Review and approve the Contractor's work programme and, where necessary, request revisions of this to account for the current status of the works and ensure adherence to the construction schedule.

Oversee and verify laboratory and field tests undertaken by the Contractor during the construction period.

Prepare Progress Reports for the Contract in a form acceptable to ADB and the Client.

Agree with the Contractor on systems of measurement for interim payment certificates and verify the quantities for such certificates.
Location:

Airport-Gazipur

Technical Area:

Roads, Transport

Client:

Roads and Highways Department

Project Start:

April 2017

Project Completed:

On Going